Factsheet
Developer:
Factory02
Based in Tours, France
Release date:
9 March, 2016
Website:
games.factory02.com
Regular Price:
Free
Description
Defend your land against the meteors falling from the sky and the fireballs bursting from the volcanos. Block them or catch them! Avoid fireballs while they are falling continuously on your castle:
Features
3 modes : block, catch and avoid,
short crazy runs,
share best scores.
History
Raining Fire was created to take our hands down on mobile gamedev while recreating the gameplay of games not available on Android, Apple season from Orisinal and Shuriken block from .GEARS, and put our touch in it. The game was initially inspired by the research of Dr. Ruth Dwyer and her video on YouTube The Comet of 536 and the Ravenna Mosaics.
Vidéos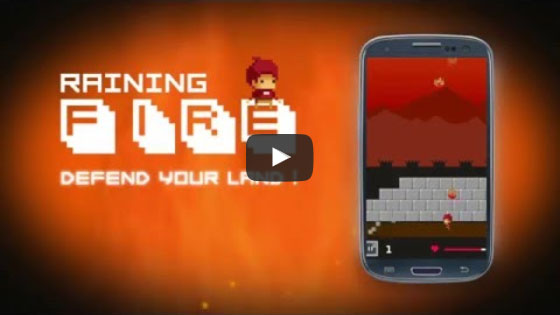 Images
About Factory02
Factory02 is a indie team of 3 people making games and web. We're based in Tours, France.
Contact
You can contact us regarding this game or for open requests. Drop us an e-mail at